What's for dinner? Need a plan? Here is a weeks worth of Gluten Free dinner recipes – free!

We had a fun weekend in the Mountains of North Carolina. We are so lucky that a 3 hour drive east takes us to the beach and a 3 hour drive west we have mountains. Our mountain trip included apple picking, gem mining, and a hot air balloon festival. We came home with 36 lbs of apples! I can't wait to get cooking! What are your favorite apple recipes?
This week is busy with school, work, karate, ballet and dinner guests. I will be pulling a few long days so the slow cooker will be my BFF for the week.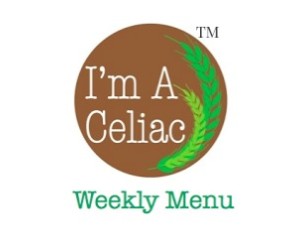 MONDAY –Slow Cooker Pork BBQ with rice
TUESDAY – Baked Spaghetti Pie
WEDNESDAY – Dinner guests – taco salad, nachos, burritos
THURSDAY – Slow Cooker Roast Chicken, mac n cheese, green beans
FRIDAY – Chicken Broccoli Alfredo Bake, using leftover chicken from Thursday
SATURDAY – Date Night
New to living Gluten Free? Need a little help?
Check out my book, Succeed at Living Gluten Free. It has 65 tips to help you rock the Gluten Free lifestyle and avoid a ton of gluten disasters!